Arsenic, lead taint soils at many 'child-use areas'
Fallout from Asarco smelter in Pierce, King counties
Monday, November 29, 2004
By DEBORAH BACH
SEATTLE POST-INTELLIGENCER REPORTER
TACOMA -- Margaret Schumacher feels sick when she thinks about the children at her in-home day care center digging and playing in arsenic-tainted soil.
Schumacher dug up her yard four years ago to lay down grass and minimize the mess from dirt. At the time, she had no idea that tests would find high levels of arsenic -- the legacy of the Asarco smelter that operated three miles away for almost a century.
"Here I was, digging away and it was all dusty," she said. "It didn't even occur to me about the arsenic in the soil. These kids would pick up handfuls of it and throw it in the air. It wasn't our daily activity, but that's what kids do."
Eighteen years after the Asarco smelter in Ruston closed, residents of neighboring communities are just starting to learn about the potential health risks posed to generations of children. Those dangers, tests show, still exist.
The state Ecology Department, which estimates that the copper smelter spread arsenic and lead over a 400-square-mile swath of King and Pierce counties, is conducting a study of contaminants in soil at day care centers, preschools, parks, camps and playgrounds. The study is focusing on gathering places for children under 6 -- the most vulnerable group for health risks caused by environmental poisons.
So far, soil has been tested at about 160 "child-use areas" in the two counties. The results show clusters of contamination on Vashon and Maury islands -- where one out of four sites had elevated arsenic levels -- as well as Normandy Park, University Place and Tacoma's North End.
Half the Tacoma day cares and preschools tested had arsenic levels exceeding the limit. The dirt in Schumacher's yard was up to three times the safety threshold.
High arsenic levels were also found at seven parks -- four in Pierce County and three in King County -- and at seven public schools -- two in Highline, one in Federal Way and four in Tacoma.
Health officials found the highest single concentration -- 691 parts per million -- at 450-student Point Defiance Elementary in Tacoma. The state's health limit for arsenic in soil is 20 ppm.
The level triggering cleanup efforts statewide is 100 ppm, but in the Ruston area, Asarco isn't on the hook for cleanup unless the contamination is more than double that. Lead was found in elevated levels in only a few of the sites tested so far.
An additional 500 sites have been identified for testing in Burien, Federal Way, SeaTac, Normandy Park and Des Moines. Public Health -- Seattle & King County is contacting property owners to request access, and test results are expected next year.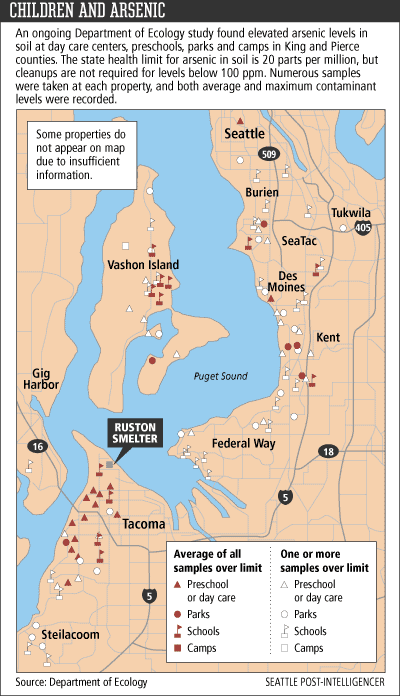 The initial results are disturbing, said Gregg Small, executive director of the Seattle-based Washington Toxics Coalition.
"Lead and arsenic are two of the most toxic substances on the planet," he said. "The science is very clear about the impact that lead and arsenic can have on children."
The findings have spurred some fixes, including a cleanup at Point Defiance Elementary. Tacoma Public Schools spent $70,000 replacing soil in the school's baseball field and paving a dirt-and-gravel playground, said Ken Wilson, an environmental specialist for the district.
Contaminated areas at the other three Tacoma public schools -- Downing, Wainright and Whittier elementaries -- are either below the trigger level, or in the case of Wainright, in a forested spot where children aren't permitted to play, Wilson said.
No corrective work was done at the schools, which have a combined enrollment of more than 1,000 children.
State officials say determining the risk posed to children is tricky, in part because contaminated soil on many properties is covered with gravel, wood chips or grass.
One of the preschools tested, at Skyline Presbyterian Church in Tacoma, had arsenic levels of 429 ppm, but an Ecology official said the preschool doesn't have an outdoor play area.
"They keep the kids indoors," said Marian Abbett, who oversees Ecology's testing and cleanup efforts in the area. "It's good news that they haven't been exposed."
Skyline Presbyterian did not return phone calls last week.
With Asarco facing $1 billion-plus in cleanups nationwide, Ecology realized the difficulty of holding the company financially responsible. Not wanting to penalize innocent property owners, the department waived the provision of the state's Model Toxics Control Act requiring owners to be held liable for cleanup, regardless of who caused the contamination.
In the early 1990s, the Environmental Protection Agency and the Ecology Department approved a deal that makes Asarco responsible for cleanups within a one-mile radius from the Ruston smelter only when arsenic levels in soil are severe -- 230 ppm or higher. State officials have since expressed regret at the agreement.
The current testing is voluntary, and there are no legal requirements that schools, day cares and other property owners notify parents of potential risks or clean up their tainted soil.
Ecology is instead taking an educational approach, providing kits with nail brushes, educational videos and pamphlets to sites with elevated arsenic or lead levels.
Health officials in King and Pierce counties have used various methods to get information out -- meeting with parent groups, mailing information to residents, posting educational billboards.
"There are probably half a million parcels of land that are potentially affected by this, and we've made a decision not to require cleanup of all the property owners," Abbett said.
Stu Jacobsen, president of Washington Parents for Safe Child Care, is critical of that approach.
"It's like putting a Band-Aid on cancer," he said. "It's a dereliction of duty by the state. Washington state covers the licensing of child cares, and there's an implied warranty of safety by the state under the licensing rules."
In Pierce County, more than half the property owners approached by the health department, which is conducting the tests on behalf of Ecology, declined to participate. Many of those were church-based preschools and in-home day cares.
"Some people definitely just didn't want to know," Abbett said.
Of the 194 sites in the county identified for sampling, access was granted to 72. After eliminating sites that were paved over or no longer used by children, the list was whittled down to 56.
Metro Tacoma Parks denied access for testing at its 100 parks. The financially strapped public agency wanted Ecology to guarantee that it wouldn't be held responsible for any cleanups.
Parks Board President Aaron Pointer said Metro Parks closed wading pools and discontinued maintenance at a dozen parks last year because of insufficient funding. Earlier this month, a $60 million bond issue targeted for park operations failed to pass.
"We didn't want to get ourselves in a position where we had to start putting up signs saying, 'Parks closed because of dangerous conditions' without having any help from anybody for any cleanup that might have been required," Pointer said.
An expert on environmental toxics condemned that stance.
"It's unethical," said Steven Gilbert, director of the University of Washington's Institute of Neurotoxicology and Neurological Disorders. "It's not being socially responsible."
Small, of the Toxics Coalition, said testing in the smelter plume zone should be mandatory.
"I do have sympathy for day care centers and schools, because they did not create the problem, but not looking to figure out if there's a problem in your particular area is simply putting your head in the sand, and that's not a responsible way to act," he said. "All child-use areas need to be tested to find out how serious the problem is."
Asarco has established a $100 million national cleanup fund, some of which is paying for cleanup around the Ruston smelter. About 1,400 properties within a one-mile radius of the smelter have been cleaned up since 1996, including Point Defiance Zoo, and there are 1,000 more to go.
Jean Mollenhauer runs Our Inn-Spiration II Preschool and Child Care Center in a tidy, single-story brown house about a half-mile from the smelter in Ruston, which supplied most of the nation's arsenic for decades.
The center's main room looks out to an expansive yard that Mollenhauer believed was safe when she took over the business from her mother in 1998, two years after Asarco tested the soil. Arsenic levels of up to 180 ppm were measured -- nine times the state standard, but too low to require Asarco to clean up the property.
Mollenhauer was disappointed to learn that the cleanup levels in the area were raised.
"We have 94 children at our center right now, and it would be nice to be covered," she said. "If (Asarco) wants to show that they care about the health and welfare of children, this would be the place."
Ecology will cover half the cost of cleanup work for public facilities contaminated by the smelter, such as schools and parks, but Abbett said she doesn't know of any grants available to owners of day cares, preschools or private schools.
Carmela Micheli said she plans to cover the bare soil outside her north Tacoma preschool and kindergarten with sod at a cost of about $3,500, after she renegotiates her lease.
The soil outside Arcadia Montessori tested slightly over the limit for arsenic, and Micheli said she's vigilant about hygiene.
"We do constant hand-washing," she said.
Arsenic in soil is typically transmitted through hand-to-mouth contact and poses a double danger for toddlers, who frequently put dirty fingers in their mouths and who, because of their small size, ingest disproportionately higher levels of contaminants than adults.
A naturally occurring element in the Earth's crust, arsenic is primarily produced as a byproduct of copper and lead smelters. It is a toxic that causes cancer of the skin, lungs, bladder and kidneys.
Tainted soil can be covered with pea gravel or other materials, providing a less costly solution than soil removal but only a temporary fix, said Jim White, a state Health Department toxicologist.
"Eventually, the homeowner is going to want to plant some trees or plants," White said. "Children like to dig into dirt, so the cover won't last very long. Contaminated soil will come back to the surface, where people will be exposed to it again."
For Point Defiance Elementary Principal Olga Lay, precautions have become a fact of life.
Teachers ensure that children wash their hands after playing outdoors, mats are in place by all entrances to wipe shoes, and the school district acted quickly to clean up soil after the test results were in, she said.
Some parents were "pretty hot" when they first learned of the school's test results more than a year ago and wanted teachers to keep their children indoors, but Lay, a mother of two young sons, refused.
"We chose to live in this area, and there's no way I'm going to keep our children from being outside. I'm not going to lock them in," she said.
"I would hope we've solved some of the problem, and we're having kids take care of what they need to take care of. It's a safer place for them now, I think."
ARSENIC TEST RESULTS